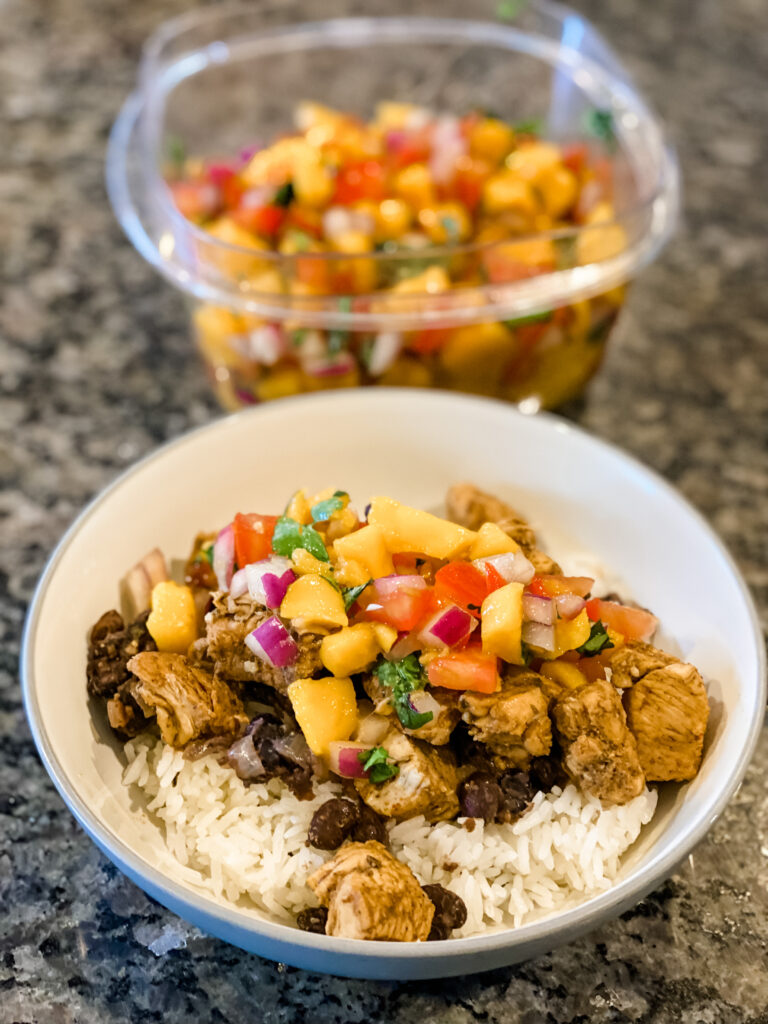 Ingredient List


For Chicken:
4-5 Chicken Breasts
4 tbsp. coconut oil
4 tbsp. ground cumin
2 tbsp. chili powder
2 tbsp. dried oregano
6 cloves garlic
Juice from 1 large orange
Juice from lime (to taste)
For Black Beans:
4 tsp. coconut oil
1 yellow onion
4 cloves garlic
3 cans black beans (drained)
2 tsp. smoked paprika
4 tsp. ground cumin

For Rice:
3 cups of uncooked white rice
Cilantro (to taste)
Lime juice (to taste)

For Mango Salsa:
3 large mangos
1 red onion
1 red pepper
3 tomatos
Cilantro (to taste)
Lime juice (to taste)
DIRECTIONS
Chicken:
Combine all ingredients for chicken marinade (ground cumin, chili powder, oregano, garlic, orange juice, lime juice) – mix together small bowl.
Pour on top of diced chicken in large bowl. Toss to coat chicken and let sit for at least 30-45 minutes or overnight to marinade.
Heat a large skillet with coconut oil over medium heat. Once hot, add chicken and cook 10-12 minutes until golden brown.
Black Beans:
Heat coconut oil in large skilled over medium heat. Add diced onions and sauté for 3-5 minutes. Add garlic and cook for another 2 minutes. Add black beans and cook for 5-10 minutes. Using a potato masher, mash about half of the black beans in the pan, then mix all together.
Cilantro-Lime Rice:
Cook white rice as usual in a rice cooker.
When finished, add cilantro and lime juice to taste.
Mango Salsa:
Chop up all ingredients (mango, red onion, red pepper, tomato) and mix together in large bowl.
Add cilantro and lime juice to taste.
Let chill in refrigerator prior to topping on bowl.
Build your bowls!!
Rice
Beans
Chicken
Mango Salsa
EAT!!!
Pro tip – add greek yogurt 😉