Hi mamas! If you're here, you probably have some questions about supplements to use before, during and after pregnancy. I was so excited to find Premama Wellness as this brand touches on all parts you'll need during such an exciting time in your life! The brand offers a number of products which I've broken down for you here.
BIRTH CONTROL CLEANSE
I didn't personally use this product, however, I know a number of women that would benefit from it! Most women are or have been on some form of birth control. The added hormones in your body can cause a hormonal imbalance. The cleanse system helps regulate your hormones and cycles. Preparing the body for pregnancy by balancing hormones and stimulating uterine health is a great first step towards conceiving. Think of this berry favored drink as a way to reset whether you've just stopped taking birth control or you're naturally out of balance.

More information regarding Birth Control Cleanse can be found here.
FERTILITY SUPPORT
Looking for fertility support while you're trying to conceive? Check out Premama's fertility support supplements here.
PRENATAL VITAMINS
Not only should be you be taking a prenatal vitamin while you're pregnant, but did you know you should be taking it prior to getting pregnant too? It is recommended that you take prenatal at least 3 months prior to conceiving.
Premama Wellness Prenatal Vitamins are one of my absolute favorites! It's an easy to swallow pill that is MINT FLAVORED! Yum!! Each bottle of prenatal vitamins with DHA contains a food-grade plastic insert infused with pure peppermint oil, so it smells and tastes better than your typical vitamin.

One amazing factor about Premama's Prenatal Vitamin is they have a duo-capsule time-release technology. What does that mean?! It gives you all the iron you need without the nausea! The capsule releases iron and other stomach upsetting ingredients later in the digestive tract, while the omega-3 fatty acids are released in the most absorptive areas.
Take one of these non-GMO prenatal vitamins per day and you'll get your full quota of premium ingredients including Folate, gentle Iron, vegan DHA, plus all additional essential vitamins and nutrients you need.

If pills aren't your thing, they've got you covered! Premama also offers their prenatal vitamin in a drink form!
Grab your prenatal vitamins here.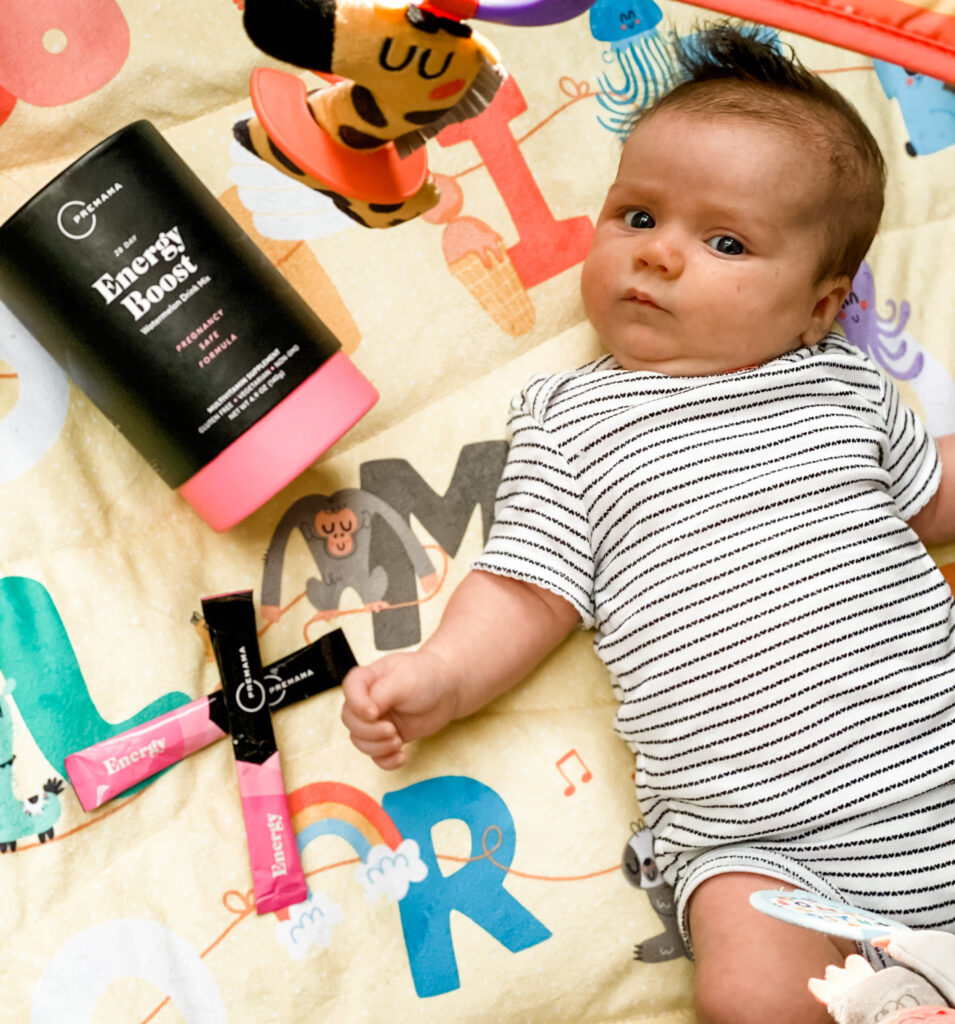 ENERGY BOOST
Whether you're pregnant or looking for caffeine-free alternatives after the baby comes, enter Premama's Energy Boost Drink. First off, this drink is DELICIOUS! It's basically a watermelon jolly rancher. This drink is gluten-free, vegetarian, and non-GMO.
This energy boost drink is pregnancy/nursing safe, no caffeine or sugar, packed with B Vitamins and Omega-3.

Check it out here.
DIGESTIVE CHEWS
The one side of pregnancy that nobody wants to talk about…bloating and upset stomach! It happens to all of us, but what do we do to help?! Enter Premama's digestive chews. Once again they have blown it out of the water with flavoring with these caramel vanilla chews!
These chews are pregnancy and postpartum-safe designed to give constipation relief (non-gmo, allergen-free and vegetarian).
I always have a few of these in my purse..just in case!
Read more here.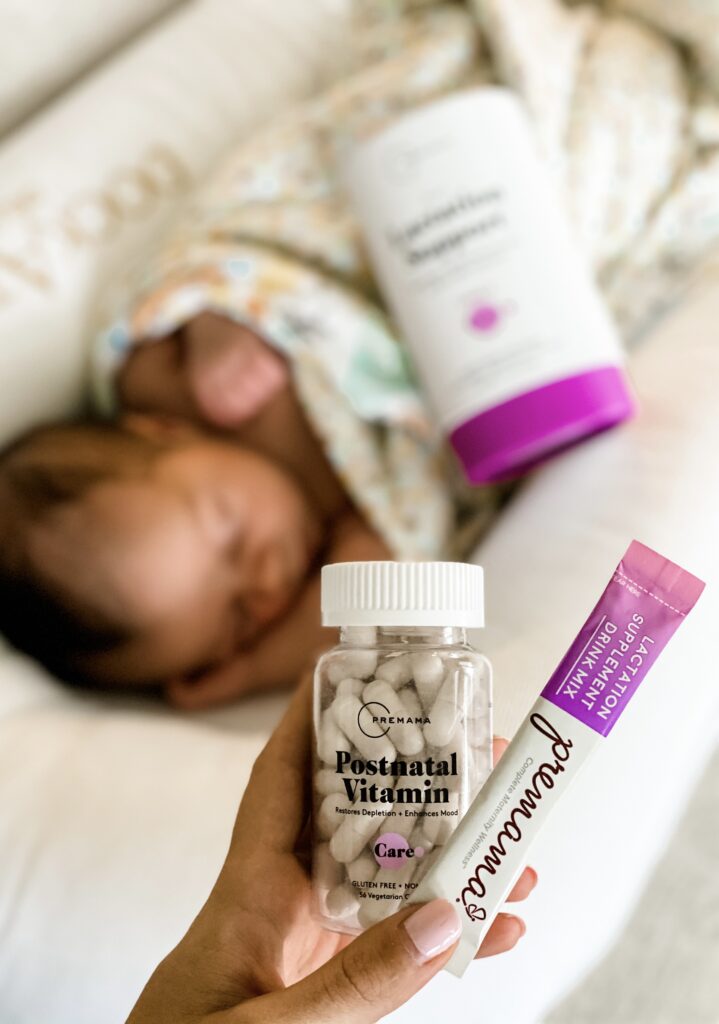 Postnatal Vitamins
We've already talked about the importance of prenatal vitamins, but did you know postnatal vitamins are just as important? Prenatal vitamins are essential to a growing baby. Postnatal vitamins are all about YOU!!

Premama's postnatal vitamin is here to help women replenish vital nutrients that were naturally depleted throughout pregnancy and birth.
This natural postnatal vitamin also works to ease postpartum depression, improve energy and cognition, and ensure your breast milk is fortified with essential nutrients to boost nutrition. Transition from your prenatal vitamin as soon as your little one is born and continue use throughout the 4th trimester.
Have these ready to go once the baby arrives!
LACTACTION SUPPORT
A fed baby is a happy baby! For those who hope to breastfeed, lactation support drinks have been very beneficial for me! Premama offers a breast milk supplement designed to help boost milk production. The lactation supplement drink mix is gluten-free, non-GMO, and vegetarian. As with all their other products… DELICIOUS with the berry flavor. This drink is perfect to pair with the postnatal vitamin.
No matter where you are in your journey, Premama Wellness has you covered. From conception, to pregnancy to postpartum there's an option for each stage that's essential for you! Head over to their website for additional information and to get your supplements today!!
Questions or want to share your journey? Premama Wellness is now on YouTube! Connect with Kaleigh (wife and mom) on research-backed fertility recommendations, pregnancy best practices, and info on what to do (and what not to do) when trying to conceive, pregnant, or postpartum.